Affiliate Toolbox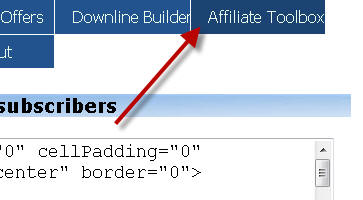 The Affiliate Toolbox section of LFM provides members with many different ways in which they can use their unique referral link. Some people will promote you over a long period of time but, realistically, many will take some action immediately after they join and then never return to this section again. That's why it's important to get this set up BEFORE you start letting people in, and that's also why LFM numbers each affiliate option as an individual step.

Regardless of which affiliate options you activate, LFM will handily renumber all the options as a sequential series of steps.

Keep in mind that the Affiliate Toolbox is about helping members to do a better job of referring people to your site. Present it as a useful set of tools for spreading their referral link around and helping others to benefit from your membership site as well. By all means champion the financial benefits, but many of these options are a passive form of promotion and you should avoid the hype that you might usually be tempted to employ.

Here is a list of the affiliate tools that LFM provides. Whatever membership script you're using, these are the facilities you should be providing to all of your members:
1) Email Your Subscribers: Create an email message that can be passed on to the member's friends and, hopefully, their entire mailing list. Note that macros are also activated in the Affiliate Toolbox section, so make good use of the http://themembershipscript.com/?rid= tag to automatically insert the member's referral link into each of the tools.

Offer short, medium and long versions of your promotional email message. Some will insist that pre-written 'swipe copy' doesn't work, but the sad truth is that, if you don't include this material, then some people just won't email for you at all. It's better to have affiliates using pre-written swipe copy, than doing no promotion whatsoever. In actual fact, swipe copy does work, it just doesn't work as well as a personalised message. Nevertheless, you can customise the instructions next to each step, so encourage your members to rewrite the emails in their own voice.

2) Send Tweet to Twitter Followers: Remember that you only get 140 characters to play with so keep it short and sweet. Make the tweet a 'call to action' and tell the reader why they should click. 'Get a FREE'' or 'Check out this cool'' is the kind of thing you're looking for here. Whatever message you settle on, leave enough room to add 'Please RT' at the end or the beginning of the message. This is a commonly understood instruction for readers to retweet the message to their own followers. You don't need many Twitter users to follow this instruction to send your tweet viral.

3) Share This Site on Facebook: Most Facebook users will be reluctant to add a long-winded sales message to their profile so keep it conversational, and keep it short. One paragraph at the most. As with the Twitter message, include a call to action message to encourage readers to click the referral link.

4) Add These Reviews to Your Site: As with your email messages, it's better if the member rewrites this in their own voice, and includes their own opinions. Reviews are different to email promos because readers expect them to offer a balanced description. This means, less hype, more facts, and don't write the review as if your site is perfect. It may be hard to write negative things about your own membership site, but think of a couple of things you could do better and work this into the review.

5) Tell-a-Friend: This is straightforward. Encourage the member to send a recommendation email to several of their closest friends.

6) Change Your Email Signature: If you can convince even just a few of your members to add their referral link to their email signature then your message is going to be seen by hundreds of people, even in just a short space of time. I recommend keeping this to a minimum of two lines. Just a call to action and then the referral link.

7) Change Your Forum Signature: As above.

8) Top Sponsor Ad: This is a good feature for members who own directories or content sites, but it'll also be picked up by ad-swap site users. This section can also be easily adapted for blog sidebars, so make sure you suggest this usage in your customised instructions.

9) Squeeze Page: This feature is particularly important for people who promote using traffic exchange programs. Traffic exchange users don't want to send people straight to a full sales page, so create a simpler squeeze or splash page that acts as a teaser.

Other LFM users who are using login offers will also appreciate some kind of squeeze or splash page, so don't overlook this tool.

10) Safelist Emails: This is listed separately from the 'Email Your Subscribers' tool because the format needs to be a little bit different. People who receive and read safelist emails will be receiving hundreds or even thousands of emails at a time. This means your subject line has to be killer and your email has to be short, and to the point.

If you need help figuring out a good attention-grabbing subject line, join a safelist for yourself and then, when you receive each batch of emails, scan the subject lines to see which ones jump out at you. This should give you plenty of inspiration for creating your own.

11) Pop-up Ads: Many people refuse to use pop-ups because they think they're bothersome. This is absurd. It doesn't matter if they're annoying, it only matters whether or not they work. And guess what? They do.

Exit pop-ups are the best option as they give you one last chance to catch your visitor's attention. Additionally, even if they do annoy your visitors, they were leaving without buying anyway, so who cares if you irritate them a little on the way out? If they take you up on your last-ditch offer, they'll like you just fine after that.

12) 'Thank You' and 'Log Out' Page: Space on these pages is always at a premium so these mustn't take up too much space. Use your best medium-sized image. To help the image fit in with the member's pages, it helps to describe your offer as an unadvertised bonus.

13) Banners: The standard banner size is 468x60 but you should also include smaller square buttons and vertical banners so your blog users can place them in their sidebar.
Add an HTML Header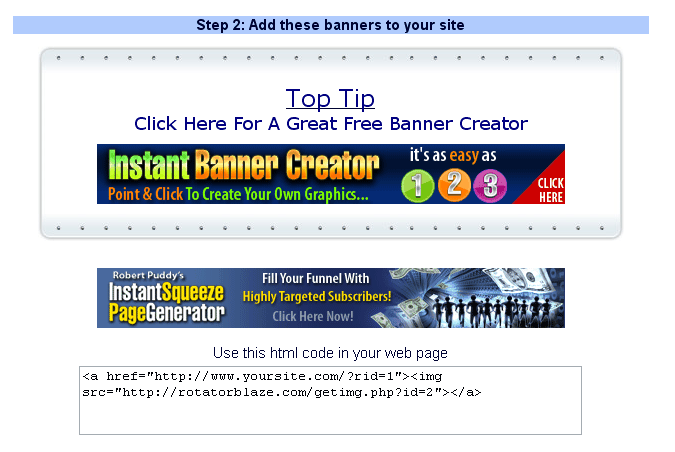 This option, available with every feature in the Affiliate Toolbox, is officially for including instructions and guidance for your members. Unofficially, it's also another LFM money-spinner. Activate this facility for every tool, even if it's blatantly obvious how it should be used and, underneath your instructions, include a banner or button promoting your affiliate link for a relevant program.

Relevancy is absolutely crucial here. Get it wrong and you'll look like a cheap opportunist. Get it right, and you're simply recommending relevant tools and training. Use your imagination to match products and services to each affiliate tool. Just in case you're struggling, here are some pointers:
1) Email Your Subscribers: Recommend one or more mailing list management service. Most programs of this type pay affiliates on a monthly basis so these are highly valuable to promote.

2) Send Tweet to Twitter Followers: There are lots of Twitter management tools out there; many are free, but some, such as TweetGlide have a paid element that can be promoted by affiliates.

The ability to use Twitter as a viral promotion tool has also given rise to plenty of eBooks and viral software tools so you shouldn't have any problems filling this slot with some suitable banners.

3) Share This Site on Facebook: Marketing your business through Facebook requires very specific marketing techniques. There are many reports and eBooks available that claim to teach these skills so find a good product and feature it here.

4) Add These Reviews to Your Site: If someone is willing to publish a review of your site, then they may wish to publish reviews of other affiliate programs. Recommend your most profitable affiliate programs here, or point your member towards an affiliate network such as Clickbank or PayDotCom.

5) Tell-a-Friend: There are some really good Tell-a-Friend software products on the market. Plant the idea that your member can use this kind of facility to start their own viral campaign and then point them towards your preferred software.

6) Change Your Email Signature: You need to think laterally here. You're on the subject of emails, so suggest some suitable spam-blocking software or an email tracking tool that records when sent emails are opened.

7) Change Your Forum Signature: Please don't be tempted to promote forum spamming software. Instead, find a good quality eBook on how to market through forums in a professional manner.

8) Top Sponsor Ad: Some of your members will use this tool to setup a pay-per-click campaign. There are some hefty software tools for running PPC campaigns that you can recommend or, keep it simple, and suggest a report on improving PPC results.

9) Squeeze Page: Recommend a squeeze page creator. I humbly recommend InstantSqueezePageGenerator.com

10) Safelist Emails: Promote a couple of your favourite safelist programs here. Rather than inserting a couple of random and obscure websites, stick with some of the more robust and long-term programs such as ListDotCom and ListBandit.

11) Pop-up Ads: Pop-up creation software. Obviously.

12) 'Thank You' and 'Log Out' Page: Image design software is useful for creating 'Thank You' and 'Log Out' page graphics. A bundle of marketing-related graphics is also a good fit for this tool.

13) Banners: A bundle of marketing-related banners also works here, or suggest one of the many banner-creation services available.
More Tools

Have your Affiliate Toolbox all set up and ready to use before you register your first member, but don't be satisfied with your first attempt. Once a month, add a new affiliate tool, or expand an existing category. Then, email your members to say, 'We've put new tools in the affiliate marketing area, to see what we've added, login at''

The goal is to keep giving your members a friendly push in the direction of your affiliate program while, at the same time, giving them another reason to log-in. Surely by now you understand why this is so desirable.