Product & Content Management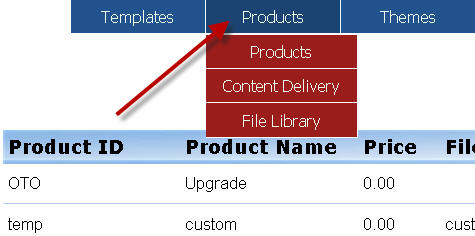 One of the most common problems with running a membership site is the tendency of some members to gobble up all of your content in one go and then cancel their membership. Some people seem to feel that it is perfectly acceptable to register an account, download all of your content to their hard drive, and then cancel their account. Trying to get as much as possible for as little as possible has become some kind of game.

In fact some cheeky blighters will register an account, download everything, and then demand a refund for their initial payment!

I appreciate that saying this may sound a little grumpy and, yes, this only represents the behaviour of a minority, but when you have your own membership site and this scenario plays out for you, I guarantee that you'll discover new levels of aggravation.

Content Delivery

With a desire to consign this problem to the history books, one of the earliest features of LFM that I created was the 'Content Delivery' system. This facility enables precise control over all of my membership content and the speed at which it is delivered. Let's say that I have twelve items of content for my members; I can specify that this content should appear in the members area over a period of three months, six months, a year or even longer.

The application of the 'Content Delivery' system is simplicity itself. Each piece of content is registered in the system as its own page and, for each page, I can specify how many days, after a member registers, that it should become available. Effectively, I'm dripping the content out over time in a manner that is relative to each new member. This accomplishes two things:

1. It encourages members to remain a subscriber.
2. It gives members a reason to login on a regular basis.

As well as being a financially sensible strategy, the ability to make pages invisible until a certain time has passed allows you to create a variety of additional pages that only make sense within a time frame, or in a way that doesn't overwhelm the user. This makes sense from a practical point of view because, if you include all of these additional pages straight away, some will get missed or members will become overwhelmed. It's like offering your content in the form of a classy Tasting Menu rather than a bloated buffet.

Although you can vary the number of days between products at your discretion, I recommend aiming for some kind of consistency. Delaying exactly a week or a month in between products, trains your members to expect new content at specific intervals and keeps them looking forward to their next delivery.

What is Content?

In short, content is whatever you say it is. If your membership site is a training program, then it's information. If your membership site is a download club, then it's software and scripts. The theme of your site will, for the most part, dictate the form of your content, but there are lots of options available to you beyond pages of text.

Video: If you want to impress your members and keep them eagerly looking forward to your next delivery of content, then video is the way to go. High definition video of you talking to the camera will make you look like a pro, but screen-capture videos are also an attractive way to deliver content and, in terms of presenting a 'How To' teaching course, they're probably even more effective.

If you want to save bandwidth you can provide the videos in downloadable form so the members could watch from their desktop. I recommend NOT doing this and, instead, streaming all of your videos within the members area. There are three very good reasons for doing this:

1. Members have to retain their subscription if they want to watch and re-watch your content

2. Your video is less likely to be stolen and uploaded to a warez site.

3. The LFM script contains a video player that can stream files directly from your server or from an Amazon S3 account (If you stream your video from an Amazon S3 account, then your bandwidth cost will be extremely low).

Audio: If you're not quite ready to be on TV then grab a microphone and record some audio. Even a plain eBook or article series can be brought to life with an enthusiastic reading. If you want to stream the audio directly from your membership pages, then the LFM software also includes an audio player.

Unadvertised Free Bonuses: I like to have a page of these available from the start but use the 'Content Delivery' system to upload new bonuses that reward members for maintaining their subscription. If you stockpile these in advance, you should provide members with a calendar revealing what they'll get once they have been a member for three months, six months, and so on. This is a great customer retention strategy.

Recommended Resources: This is obviously a good way to put your affiliate links in front of your members, although I highly recommend mixing in some products that you love, but that don't have any kind of affiliate program. This will allow your members to view your recommendations as genuine and not solely for profit.

Surveys: It's sensible to reward members for completing a survey but you'll be surprised how many people will happily complete a quick page of questions of their own accord. Be gutsy and upload a survey 2-3 months after the initial registration, asking for feedback on your products and customer service. The good comments are great to use in quotes on your sales page, whereas the negative comments are an opportunity to improve your membership site.

Another way to use surveys is to find out what information and services your members would like to see in your next membership site.

Discount Coupons: This is a nice variation on the 'Free Bonuses' and 'Recommended Resources' pages because you can construct offers that are unique to your membership site. Do some deals with your closest joint venture partners; most will be willing to provide some kind of discount but push them for something extra special. As with the 'Free Bonuses' save some of the best offers to surprise your most loyal customers.


Enable Publish Date



This is another option that many users miss but provides you with another valuable level of flexibility. When you create a 'Membership Account Type' (see 'Members' chapter) you have an option called 'Enable Publish Date'. If you check this box then the LFM system makes a comparison between the date that content is uploaded and the date that a member joins. If a content page is older than the date of the member's initial registration, then the content is withheld. The overall effect is that members will only see content that is uploaded AFTER they join.





Why would you want to do this? Well, let's say that you have a membership that provides five new videos every month. What you want to avoid is having members hold off from joining, thinking that, if they wait six months, they'll have instant access to an archive of thirty videos. This may not be an issue if your membership is free to access, but if you're charging a monthly subscription then this is a factor that you must consider. In other words you want your visitors to have a good reason to join NOW, rather than later.

'Join now, or miss out on great new content', is a nice scarcity factor that you can add to your sales page with this facility. It also keeps your membership site fair for your existing members. Your regular paying customers should always be your highest priority.