System Settings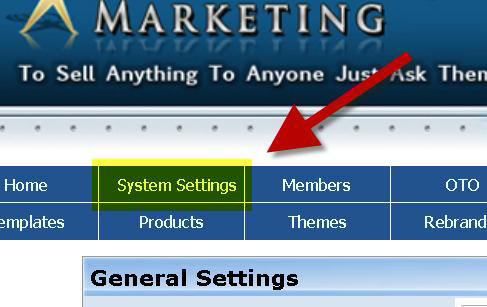 General Settings.> Sitename

The purpose of entering a 'Sitename' is not merely to remind you which site you're administrating. Whatever you enter in this field will be inserted across your membership site in a number of important places, the most significant of these being the META Title Tags on your webpages.

If you're not familiar with META tags, all you need to know right now is that they affect the way your website is indexed and listed by the search engines. The META Title Tag defines the text that is shown at the very top of your browser.

Search engine optimism optimisation is not something I give a lot of attention to. Because the majority of my content is in the private members area, there isn't a lot for the search engines to index. Nevertheless, the Title Tag also determines the headline that is shown next to your entry in the search engine listings. For this reason alone, you should choose your Sitename carefully and in a way that reflects the theme of your site.





Another key purpose of the Sitename field is to allow you to use it in macros. In many places across your membership site and emails, using the tag substitution The Best Membership Script will automatically insert the text you've placed in this field. We'll look at macros in more detail later on and you'll be amazed how effective this seemingly insignificant feature can be.

The text you enter in the META Description and META Keywords fields are also picked up by the search engines. The META Description text is particularly important as it will often be used by the search engines as the descriptive text for your search engine listing.


Member & Affiliate Configuration
> Enable Email Verification



This section of your settings may just be a few check boxes, but your choices here are important so make sure you get your head around these functions.

Confirmed opt-in, or double opt-in as it's also known, is the function that asks the customer to click a 'validation' link in an email to confirm their email subscription or membership registration. This process is almost universally accepted as a requirement for any list or membership site. Some third-party email management companies have even made this mandatory for all of their accounts.

This is a valuable precaution against erroneous spam complaints and, although LFM gives you the option, I highly recommend keeping this box checked. Yes, you might lose a few customers along the way who start the registration process but don't complete the validation, but it's unlikely that you'll miss these individuals. Think about it' if a person doesn't have the commitment or the intelligence to complete the validation process, then how likely is it that they will ever become a paying customer?


Member & Affiliate Configuration
> Send Sale and Downline Notifications



Check these boxes and your members will receive an email notification every time they successfully refer a new member or make a sale as an affiliate. This is far more than just a helpful members feature, this is a powerful opportunity to make some money. Note this section as the first example of the LFM effect in action.

There is virtually no email that you can send to your customer that will do a better job at grabbing their attention than sending them an email informing them they've made a referral or a commission. How would you react to receiving an email with one of these subject lines?
Congratulations! You've Made a Sale

Thank you! You've Referred a New Member
Doesn't just the sight of those subject lines grab your attention and cause a slight quickening of the pulse?

Now, what's the very next question that goes through your mind? Isn't it something along the lines of, 'How many members have I referred so far?' or 'How much commission have I just earned?' Naturally, you open the email to find out. It probably won't surprise you to hear that open rates for these emails are two to three times higher than any other marketing email.

But, here's the LFM difference: whatever you do, DO NOT tell your member in the email how many people they've referred or how much commission they've just earned. Instead, invite them to log in to obtain this information and include a direct link to your login page. Naturally, when they log in, before they arrive at the members homepage, you will gladly take the opportunity to make them a tempting offer.

Can you see how powerful that is? Every time an affiliate refers a new member or makes a sale, you automatically get the chance to make another sales pitch. Not every affiliate will take your follow-up offer, but every sale you make through this method is a sale you wouldn't have made if you hadn't organised your membership site in this way.

A one-time-offer during the log-in process is just one opportunity to make an offer in this situation. You should also add additional offers within your members area for upgrades or related third-party products. More on this subject later.

Is that enough for you? No? Good, you're getting into the right mind-set. There is yet another opportunity here to make an offer: add a P.S. to the bottom of your email. In fact add an additional offer via a P.S. to the end of all your administrative emails. It helps if you can make the offer related to the subject of the email. For example, if the email is advising the member they've earned a commission, your P.S. could inform the reader that this email is being generated by the LFM Membership Script, and they should click here to learn how the LFM script can make them money. OK, that's a rather self-serving example, but you get the idea.

That said, if you don't have a thematically suitable offer, then any offer is better than no offer at all. Remember, the rest of the email isn't selling anything other than the opportunity to log-in and learn how much commission has just been earned, so you don't need to worry about your P.S. distracting the reader. Trust me, that person isn't going to forget to log-in and view their commission report, but they may still be attracted to an attractive offer in your P.S. In fact, if you have more than one offer to make, there's no reason why you shouldn't add multiple postscripts.


Member & Affiliate Configuration
> First Cookie Gets Sale



This feature relates to how affiliate or referral commissions are assigned. By default, like most affiliate scripts, LFM gives the sale to the LAST cookie. This means that, if a customer visits your site through, let's say, three different affiliate links before they eventually purchase, the commission will be given to the owner of the last affiliate link.

The reason for this is straightforward. Many affiliates will offer bonuses as an incentive for people to purchase through their affiliate link. If a customer is considering bonus offers by three different affiliates, the one they click last, just before purchasing, is clearly going to represent their final choice. So why would you want to change the rules from 'last cookie' to 'first cookie'? Generally speaking you won't, but there is a specific kind of affiliate promotion where this feature comes in very handy.

You'll, no doubt, be familiar with the marketing strategy whereby an individual offers highly valuable, free videos or PDF reports, as a way to obtain attention during the build-up to a large product launch. Persuading affiliates to start promoting your site during the pre-launch period, rather than waiting until the launch day, can be a tough sell. If, however, you modify your LFM settings so that the 'first cookie' gets the sale, you just offered a huge incentive for every affiliate to promote you during the launch period, and to do so heavily. The maths here is simple: the affiliate sends their readers to your site to get a free video and, if that individual eventually purchases the full product, the initial affiliate is assured of getting the sale.

This strategy needs to be used carefully and you absolutely MUST communicate this approach clearly to your affiliates. But, when applied correctly, with the right affiliates onboard, this technique will allow you to generate a huge volume of traffic in a short space of time.



Member & Affiliate Configuration
> Provide Banner URLs



If you're smart, you'll provide a full complement of affiliate tools for your affiliates to use in their promotional efforts. If you check this box, banners (or other promotional images) used by your affiliates will be hosted on your server. Leave the box unchecked and your affiliates will, instead, have to download the images and host them on their own servers.

Essentially, this is a question of whether or not you want to foot the bill. If you have a number of very active affiliates using your banners, the strain on your server can be substantial. Nonetheless, I would always recommend keeping this box checked. You want your affiliates to promote your site as much as possible and asking them to download banner images to their own server is an extra hurdle you should want them to be able to avoid. It might mean a little extra expense but I would recommend upgrading to a more powerful server before you consider leaving this box unchecked.


Member & Affiliate Configuration
> Member Levels Flow Through



This is one of my favourite LFM features, simply because it saves so much time. By checking this box, your upgraded members will automatically be able to see the content provided to lower-level members. Without this option, you would be required to construct the content for every level of membership from scratch. Here's a quick example to show you how this works in practice:

Your membership site contains ten instructional videos. 'Bronze' members can only view the first video, 'Silver' members can view the first five videos and 'Gold' members can view all ten videos. To save yourself a great deal of time and effort, construct this membership site using the 'Member Levels Flow Through' feature, and create three membership pages. The 'Bronze' video page contains the first video, the 'Silver' video page contains videos 2-5 and the 'Gold' video page contains 6-10. In the 'Products' section of the LFM administration area, you can assign these pages to a level that corresponds with the content. By checking the 'Member Levels Flow Through' box, the different membership levels will automatically display the right amount of content.

Essentially, this feature prevents you from having to duplicate content over and over again, for each new level. You only have to create the content once and then you have full control over what each member level can see.


Member & Affiliate Configuration
> Minimum Commission Payment



If you don't check this box, I guarantee that eventually one of your members will ask you to make a commission payment on an amount that's less than a dollar. It's a pain in the backside to pay out trifling amounts, so set a minimum commission payment and make sure your members know what level they have to reach before you pay out. Don't set this unreasonably high; make it an amount that's attainable but isn't going to waste your time. Ten dollars works for me.

Another good reason to use this feature is to provide your affiliates an incentive to keep promoting your website. If you set your minimum commission payment as $10 and one of your affiliates is up to $8, this is great motivation to keep promoting, at least until they reach the minimum payment threshold.

On a related note, when you'd making your commission payment through PayPal, make sure you use the Mass Pay option. The LFM script can prepare your Mass Pay file so all you have to do is upload it to PayPal and everyone who qualifies gets paid. This saves you stacks of time, not to mention money (depending on how many people you pay in one go). When you go through this process at PayPal, don't miss the option to write a specific email to send to each affiliate. You don't get many formatting options, but there's enough there to enable you to write a nice thank you message and, of course, another P.S.!

Statistics
> Split Testing



The conversion rate of your sales page is shown on the administration homepage. There is, however, an option in the System Settings to split-test your sales or lead capture page. This allows you to rotate two or three different pages and measure which one is the most effective.

Unfortunately, there's no getting around this; if you DON'T split-test then you're throwing money away. If you DO split-test, you'll register more members and make more profit without having to spend any money or even create a new offer. No matter how well you create your offer page, you will never, ever, get the optimal setup first time. Even if your conversion rate is higher than you'd hoped, there will always be room for improvement. Split-testing will allow you to squeeze the best possible results from your offers.

How to perform effective split-testing is beyond the scope of this book and could fill a volume or two on its own. The one piece of advice I would like to share in this area, however, is NOT to start by split-testing subtle changes. A lot of people make this mistake and miss out on the potential for a huge bump in conversion rates.

Most of the time, split-testing small changes will only reveal small differences in conversion rates. For example, you could split-test two pages where the only difference is that one displays your headline in quotes, whereas the other displays your headlines without quotes. Over time you may discover that the former results in a 2% conversion rate, whereas the latter results in a 2.1% conversion rate.

Congratulations, you have your winner! But if you'd started out testing something more significant, such as ditching the headline entirely and using a video instead, you may well obtain a conversion rate that doubles or triples your results.

Always start your split-testing by comparing two very different sales pages:

Text vs Video
Short Copy vs Long Copy
Header & Graphics vs Plain & Simple

Once you've got your clear winner, only then should you move on to split-testing small changes, and gradually improve your page.


phpBB Integration
> Add New Members To phpBB2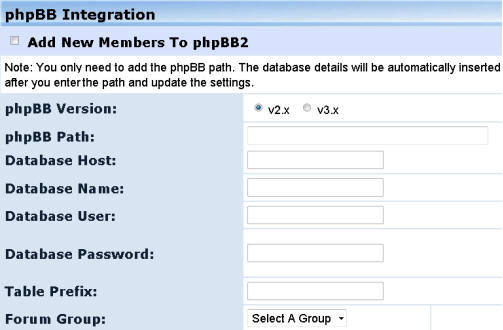 have a sneaking suspicion that many LFM users see this option in the System Settings, say 'Huh?' and then skip past it. This is a pity as phpBB Integration is an opportunity to enrich your membership site and offer something that few membership site owners even think about.

If you're not already familiar with it, phpBB is an open source, forum script. It's, arguably, the most popular forum script in the world and it's incredibly versatile. Once you've installed the forum onto the same domain as your membership site, completing these fields will arrange for every new member you obtain to also be signed up for a forum membership account.

Looking after a forum can be a lot work and I can't deny that it'll take more looking after than the rest of your LFM site, but there are many different uses for a phpBB forum that don't require intensive moderating and open up a whole host of options.

For starters, a forum provides a venue where you can interact with your customers. Keep your customer support desk for technical and billing queries, but encourage your members to use the forum to provide you with feedback on your product, to make suggestions for future products and services, or simply as an opportunity to get to know one another. People like to buy from people they like and places that they trust, bizarrely, even if it means paying a little bit more. A forum is a great way to raise the profile of your site in the user's mind and keep them coming back on a regular basis.

Here are some other ways that you can utilise a forum:

Coaching
In the world of online marketing, there are few things that carry a higher perceived value, then 1-on-1 coaching. That's why many marketers save this service as the main product or as a bonus to a VERY expensive offer. Coaching someone at a 1-on-1 level is very time consuming and, before offering this service, you must make a careful assessment of what demands this will place upon you.

A forum, however, can go a long way to alleviating the time restraints that go along with a coaching service. By using a forum as a venue to provide private coaching you have, right away, a well-organised program for keeping track of questions and conversations. A few paragraphs of text, along with a couple of screen-grabs is often a quicker and easier way to answer a question, than trying to explain the same thing over the telephone. Providing information via a forum also has the virtue of recording your coaching for others to make use of. Frequently asked questions can be moved to the top of a forum category (making it 'sticky') for other members to make use of, and this will prevent you having to explain the same thing over and over again, to lots of different students.

The other reason I favour forum coaching over telephone coaching is because it places the onus on the student to direct the level of the coaching assistance. Some people will use this kind of facility A LOT, but others will feel more comfortable observing you help others without having to put themselves forward or ask questions they may feel or silly. In fact, some people, will be sufficiently happy just knowing that the coaching forum is there. It's a little bit like offering an insurance policy; some of your students will never make use of your coaching service but they'll enjoy the security of knowing they can call on you if they ever need to.

I'm not suggesting for a minute that coaching isn't time-consuming and isn't something you should think very carefully about before stepping into, but at least be aware that a forum offers a very effective platform for this kind of service.


Bonus
Bonuses are a tricky thing these days. On the one hand, bonuses add perceived value to your product. On the other hand, customers are no longer enamoured with an endless list of unrelated bonuses, most of which they know they will never get around to using. The best kind of bonus to offer is something that IS related to the main product and that ISN'T, yet another, info-product. A 'members-only' forum fits very nicely into this category.

The benefits of a 'members only' forum include:

# Network, make friends, and find JV partners among other members.
# Receive additional support, tips, and ideas, shared only on the forum.
# Keep abreast of updates related to the main product.

A private, 'members only' forum is not just a great idea, it's also extremely easy to pitch, and it's a unique way to add extra value to your offer. And it doesn't hurt that, with the phpBB option embedded in the LFM script, this will take very little time to setup.

Upsell
Using a 'members only' forum as an upsell is similar in principle to using it as a bonus. The difference, I want you to consider with this option, is making access to a private 'members only' forum an offer on its own.

The benefits are the same as with the bonus offer, but you must highlight that there are certain extras that will only be offered through this forum. This could be additional tips, additional bonus products, additional special offers, or even something as simple as a site review service (many of your members will be pleased to get involved with this last option; everyone enjoys offering an opinion).

The key here is to make the customer feel that, if they don't upgrade to the forum, then they're missing out and their purchase will be, somehow, incomplete.

Make the decision really easy for your customers by keeping the price low. Turning on the phpBB forum is easy to do, but it will allow you to squeeze an extra $7-$27 out of each customer.

You can stretch this even further (although I advise split-testing this to see which converts better) by making the price of the upsell a subscription payment. Again, if you keep the monthly price low, it makes the customer's decision to upgrade, and to leave the subscription running, that much easier. $3-$7 extra per customer, per month, soon adds up!

I've also had success with making the subscription an annual one. $27 per year for forum access sounds like a bargain and it has a low resistance factor because your customers will know they have a full year to decide whether or not to cancel their subscription. You'd be amazed how many people are willing to let this kind of subscription keep running.


Don't Forget'
Whichever way you decide to integrate your 'members only' forum, there are two things you MUST remember to do:

1. Go into the phpBB admin area and turn off the option to register from the forum homepage. If you don't do this, and the address of your private forum becomes public, non-members will be able to join for free (and you'll also get the unwanted attention of forum spammers).

2. Just like LFM, the phpBB script sends automatic emails for various reasons. You can customise these email templates from the phpBB admin area and you know what that means' more opportunities to add P.S. offers.